Life at the Szczecin Lagoon and Ueckermünde heath- education and history
Ueckermünde Zoo applies for support of the program "Europäische territoriale Zusammenarbeit" - "Grenzübergreifende Zusammenarbeit" der Länder Mecklenburg-Vorpommern / Brandenburg und der Republik Polen (Wojewodschaft Zachodniopomorskie) 2007 -2013.
On 8 December 2009 the committee supported the common project Life at the Szczecin Lagoon and Ueckermünde heath- education and history
Leadpartner:
Tierpark Ueckermünde e.V.
Partners of the project: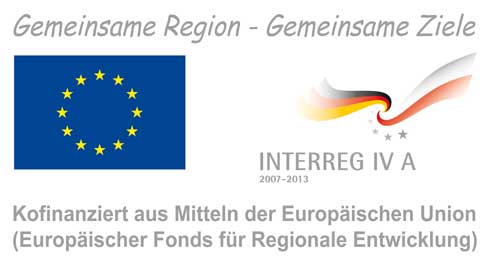 It is the common aim of Police, Ueckermünde Zoo e.V. and Eggesin to build an education center in Zalesie, Eggesin and Ueckermünde Zoo. Topics are conservation education, development of the landscape during the ice age, culture and history as well as conservation, support of the cooperation and tourism.
The new building of the enclosure for flamingos was the start of the project. Already in June 2011 the enclosure was finished. Many guests took part in the opening and could watch the moving of the flamingoes into the new enclosure.
Another part of the project is the Haff-Aquarium. The basis for the new building was the demolition of the old building. Company Jesse of Eggesin carried out this work. A Time tube 1962 was found at the demolition. Old coins, an old newspaper ("Freie Erde") and a paper, signed by the former director on 5 November 1961were in the tube. On the old paper the history of the building of the house was written down. A new time tube was buried in 2011. In this new time tube Euro coins, new Zoo newspapers and the newspaper "Nordkurier" were in the new tube. The new building was built after 16 December 2011. Within 4 hours already the all six parts of the walls were erected.
Winter already started in December 2011. Construction works were difficult because minus 25 o Celsius. The building with its area of 200m2 was made of local raw material, the framework was constructed by company HOKO in Ueckermünde. Planning office A&S of Neubrandneburg coordinated the work. Further companies were also working there: electro planning Mr. Schade as well as planning for heating, climate and sanitary, "Walther und Partner", by order of Mr. Benecke. company Jesse, company Hafftrans, companyHOKO, company Rickelt , company Kühn , company Ritzrow. The aquaria were delivered by company Spranger of Plauen. The aquaria were constructed by a company in England.

The opening oft he Haff aquarium with fishes oft he Szczecin Lagoon took place on the 50th birthday of Ueckermünde Zoo (11 August 2012)